Case Presentation:
A 53‐year‐old male with HIV (CD4 170 and VL 39,000) sought evaluation for excruciatingly painful perirectal sores and a new nodular rash covering his body. A few months prior he had been diagnosed with a perirectal abscess and was treated with incision and drainage and antibiotics However, his perirectal sores and pain persisted despite treatment; subsequent testing revealed HIV infection Concerned about the severity of his rectal pain and new rash, which developed 2 weeks prior to hospitalization, he sought care at our facility. On presentation, he had a temperature of 99.1°F HR 104, and BP 146/90, and later spiked a fever to 102.3°F. Extensive perirectal warts with a central ulceration surrounded the rectum with surrounding erythema Further examination revealed multiple cutaneous nodulopapular lesions of various sizes on the chest, back, arms, legs, hands and feet. Some nodules were ulcerated with a black central crust; some had purulent drainage. The lesions were not pruritic or painful (Fig. 1). Routine laboratory findings were notable for WBC 6.4, CD4 170 and positive RPR (titer 1:32). LP was negative, including VDRL. Treatment was initialed for community acquired MRSA infection as the likely etiology of his skin nodules. Other etiologies in the differential diagnosis were considered including bacillary angiomatosis, fungal infections, granulomatous dermatoses, and Kaposi's sarcoma. An evolving lesion was biopsied, and pathology showed "psoriasiform and lichenoid dermatitis with plasma cells," highly suspicious for syphilis, and the patient was diagnosed with noduloulcerative syphilis (lues maligna). Initially, the positive RPR was treated with ceftriaxone, but after the biopsy returned, Treatment was changed to penicillin G 2.4 million units injected IM weekly for 3 weeks.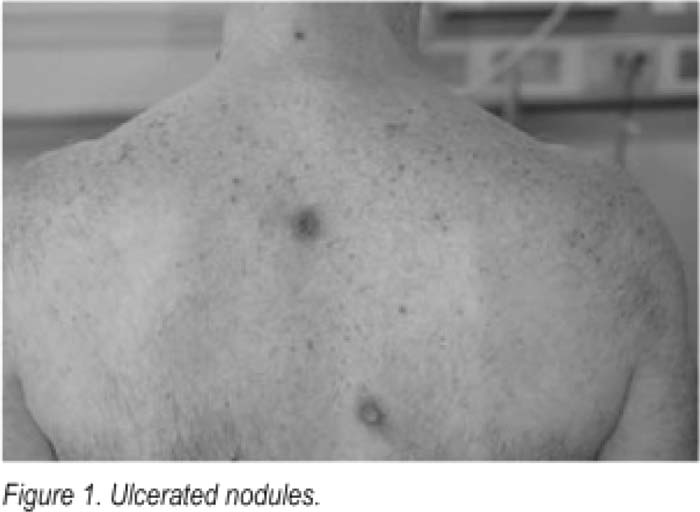 Discussion:
Syphilis has long been known as the "great imitalor" and, in this case, presented in a rare form. Typically, secondary syphilis presents as a rash on the palms and soles, sparing the face. Lues maligna is a rare presentation of secondary syphilis seen primarily in HIV and immunocompromised patients, manifesting as noduiar, oval shaped lesions that eventually ulcerate and crust over. Usually this form of syphilis is more aggressive and there are severe constitutional symptoms, such as fever, malaise, and sometimes lymphadenopathy.
Conclusions:
The skin is often a portal to systemic disease and immunosuppressed patients often do not have the typical appearance of cutaneous disease. Although syphilis is a common disease associated with HIV. it rarely presents in the form of lues maligna and can easily be misdiagnosed. As in other forms of syphilis, lues maligna is easily treated and lesions respond well to penicillin.
Author Disclosure:
J. Smith, none; M. Williams, none; J. Barsuk, none.