Background:
Current national guidelines recommend against the use of pharmacologic venous thromboembolism (VTE) prophylaxis for hospitalized medical patients who are at low risk for thrombosis. The Michigan Hospital Medicine Safety Consortium, a multihospital quality collaborative, assessed VTE risk and pharmacologic prophylaxis exposure among medical patients in a diverse group of hospitals in Michigan. We sought to determine if patient VTE risk correlated with receipt of pharmacologic prophylaxis.
Methods:
Using web-based data entry, a trained nurse abstractor at each participating hospital (n=43) collected detailed demographic and clinical data, including all known risk factors for VTE and use of pharmacologic prophylaxis. For this analysis, patients were excluded if they were: <18 years of age; admitted for VTE, surgery, or comfort care; directly admitted to the ICU; or on systemic anticoagulation. VTE risk stratification was determined using the Caprini and Padua risk assessment models (low-risk = Caprini <3 or Padua <4; high-risk = Caprini ≥5 or Padua ≥4). Using data collected from July 2013 to June 2014, we calculated a VTE pharmacologic prophylaxis "appropriateness" ratio (percentage of patients at high-risk for VTE receiving prophylaxis / percentage of patients at low-risk for VTE receiving prophylaxis) for both risk assessment models for each participating hospital. A ratio equal to 1 indicates prophylaxis is given at the same rate to both high- and low-risk patients, while a higher ratio indicates that prophylaxis is preferentially given to high-risk patients and withheld in low-risk patients.
Results:
VTE risk classifications were assessed using data collected on 21352 patients. The pharmacologic prophylaxis ratios by hospital are shown in the figure. Only two hospitals demonstrated an elevated ratio indicating some level of patient risk discrimination in administering VTE prophylaxis using the Caprini score. No discrimination was observed using the Padua score. Across the collaborative, the pharmacologic prophylaxis ratio was 1.38 using the Caprini model and similarly low at 1.08 using the Padua model. Overall, the vast majority of hospitals administered pharmacologic prophylaxis at a similar rate to both high- and low-risk patients.
Conclusions:
In a large cohort of hospitalized medical patients, the vast majority of patients are prescribed pharmacologic prophylaxis without consideration of individual VTE risk. This practice is inconsistent with national guideline recommendations and has important potential adverse consequences including exposing patients at low-risk of VTE to increased discomfort, cost, and risk for bleeding.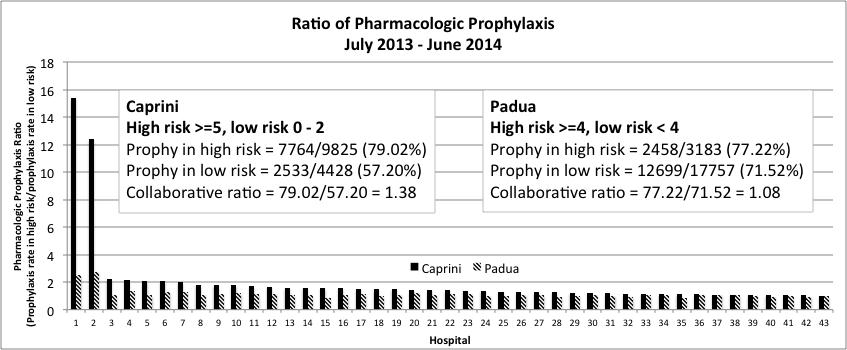 To cite this abstract:
Hospital Use of Pharmacologic Prophylaxis for Venous Thromboembolism – Does Patient Risk Make a Difference in Prescribing Practice?.
Abstract published at Hospital Medicine 2015, March 29-April 1, National Harbor, Md..
Abstract 272
Journal of Hospital Medicine, Volume 10, Suppl 2.
https://shmabstracts.org/abstract/hospital-use-of-pharmacologic-prophylaxis-for-venous-thromboembolism-does-patient-risk-make-a-difference-in-prescribing-practice/.
July 8th 2020.