Case Presentation:
A 57‐year‐old female presented in the emergency department with dyspnea and sharp chest pain radiating to the left shoulder. The pain was associaled with use of her left arm. She had a history of hypertension, diabetes, peripheral vascular disease, bilateral carotid artery stenosis, and coronary artery disease with bypass grafting of 2 vessels in 2004 with a left internal mammary artery (LIMA) to Ihe left anterior descending (LAD) and saphenous vein graft (SVG) to the ramus branch. EKG at admission demonstrated T‐wave inversions in anterior and lateral leads consistent with acute coronary syndrome (ACS). Sublingual nitroglycerin, aspirin, and metoprolol were administered with relief of symptoms. The decision was made to proceed with cardiac catheterization to redefine her coronary anatomy. This revealed a dynamic left ventricle with an EF of 75%, severe native artery disease in LAD and ramus branch with both bypass grafts fully patent. The mechanism of ACS continued to remain unclear at that point. Further imaging of the left subclavian artery revealed a severe proximal stenosis at its origin with a 40 mm Hg gradient. This was successfully treated with percutaneous transluminal angioplasty and bare metal stent placement. The patient tolerated the procedure well with complete resolution of symptoms and was discharged home. Left coronary artery angiography showing severe ostial lesion at the origin of LAD with patent LIMA graft and good flow distal to stenosis.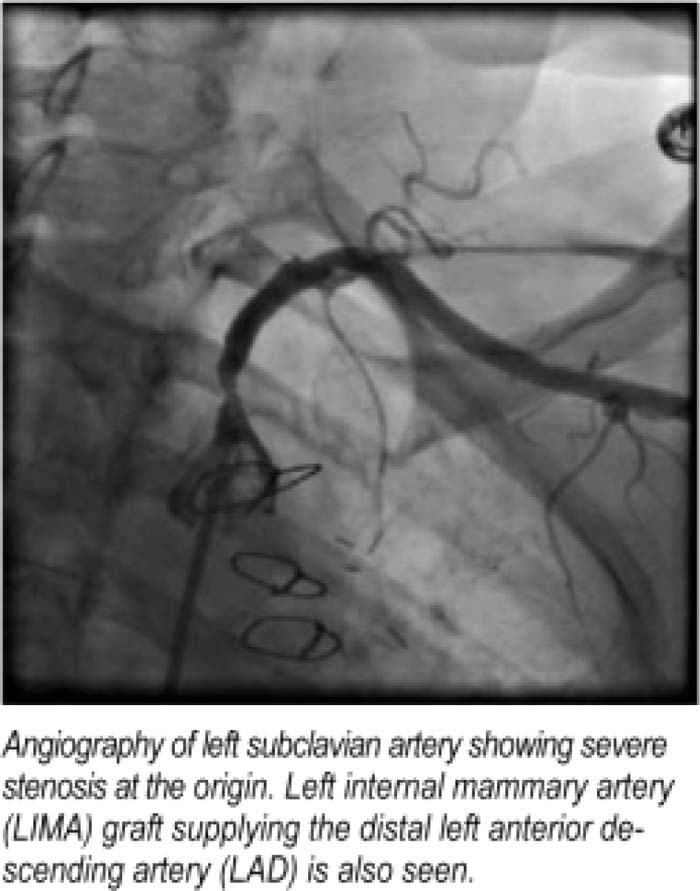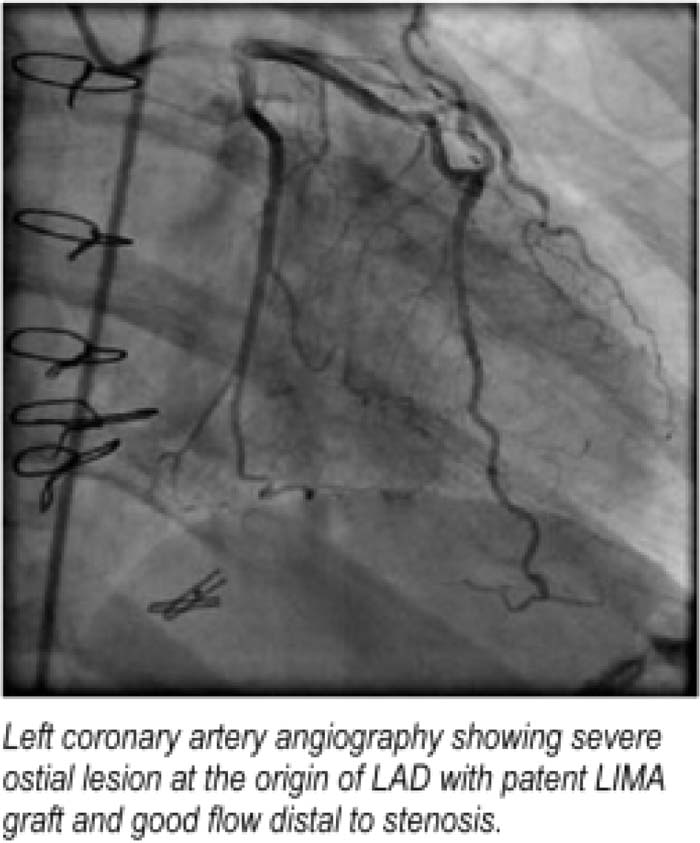 Discussion:
Myocardial infarction (Ml) is the leading cause of death in the United States The risk factors for Ml have been well studied. Symptoms arise from ischemia of the cardiac muscles secondary tc tissue perfusion abnormalities commonly due to occlusion or vasospasm of the coronary arteries. This case is a unique presentation of chest pain after coronary artery bypass grafting. The symptoms in this patient were entirely related to the severe stenosis of the left subclavian artery. Review of literature suggests that coronary subclavian steal syndrome secondary to severe left subclavian stenosis is not as uncommon as previously believed. It can present with ACS in the presence of patent coronary grafts.
Conclusions:
It is important to remain cognizant of left subclavian artery stenosis, which can present as acute coronary syndrome, acute myocardial infarction, transient ischemic attack, or stroke, in patients with a history of CABG.
Author Disclosure:
S. Gohar, Carilion Clinic, academio'none: K. Ramachandran, Cardiology Associates of Virginia, academic/none; R. Wardrop, Carilion Clinic, academic/none; G. Swank, Cardiology Associates of Virginia, academic/none.