Background:
Percutaneous intravenous central catheters (PICCs) are increasingly the devices of choice for providing long‐term central venous access among medicine inpatients. However, hospitalists are not typically trained in PICC insertion and often rely on other services, such as interventional radiology (IR). This outsourcing may lead to delays in PICC insertion and lengthen hospital stays.
Methods:
Our department of medicine recently established a procedure service that is run by a single hospitalist who supervises and evaluates medical house staff in the performance of ABIM‐required procedures. He also performs ultrasound‐guided PICC insertions at patients' bedsides. Inpatient general medicine services now consult this procedure service for PICC placements, whereas other services, such as general surgery, continue to consult IR for PICC placements. We retrospectively reviewed the electronic medical record over a 4‐month period from September to December 2006 to compare the mean wait times for PICCs placed by the procedure service and IR. Cases were identified from procedure attempt logs from the 2 services. Starting time was considered the first mention in the medical notes of a care team's intention to have a PICC placed, and finishing time was considered when chest x‐ray was performed to verify catheter tip placement. The Student t test was used to compare the time to PICC insertion between groups.
Results:
Over the 4‐month study period, a total of 53 cases were identified that contained documentation of the care team's intention to have PICC placement: 28 performed by IR and 25 performed by the procedure service. The average wait to have a PICC performed by IR was 2.6 days, whereas the wait for a PICC performed by the procedure service was 1.2 days (P = .009). Among the PICCs placed by IR, all had tip position verified by fluoroscopy before the patient left the procedure suite and were therefore immediately usable. Among PICCs placed by the procedure service, 3 of 25 were too deep and had to be repositioned. This delay in time before use was included in this analysis. The success rate for both groups was 100%.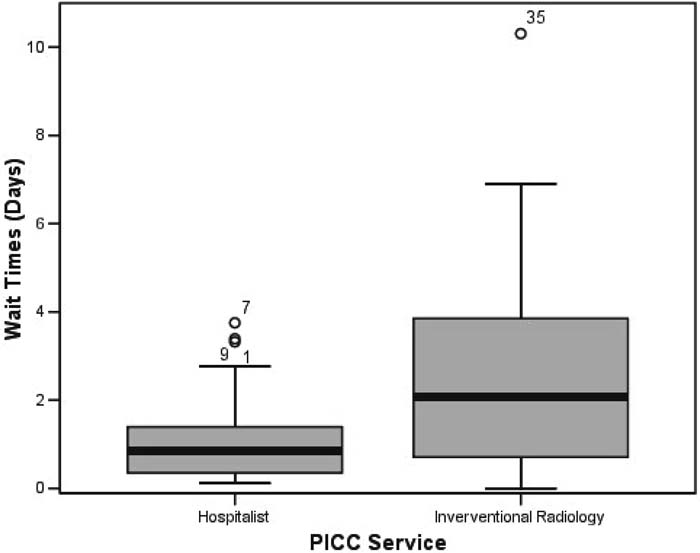 Conclusions:
From this preliminary data, it appears that having a hospitalist available for ultrasound‐guided PICC insertions can substantially reduce the time to PICC insertion without a decline in success rate. Further research is required to determine what impact this may have on length of stay.
Author Disclosure:
J. K. Asbury, None; B. P. Lucas, None.