Case Presentation:
An active 83‐year‐old white female presented to Ihe emergency department (ED) with fever rigors and dyspnea for 1 day. The patient was discharged home about 5 days prior to presentation for right leg thrombosis, bilateral submassive pulmonary embolism, Klebsiella urinary tract infection, and C. difficile colitis. She had a recent history of right total hip replacement. Examination revealed splenomegaly. She had an infective screen workup including a CT scan of abdomen that revealed splenomegaly with a massive splenic abscess about 12 × 12 × 10 cm anc sigmoid colon diverticulitis. Her urine and blood cultures came positive for Klebsiella oxytoca species. She had a negative workup for bacterial endocarditis. The patient was treated with antibiotics and percutaneous guided drainage of the splenic abscess in view of her current status and comorbidities. However, she did not improve despite aggressive antibiotic treatment and drainage of the abscess. Hence, a decision was made to perform an open splenectomy. Following the surgery the patient recovered uneventfully and was discharged home.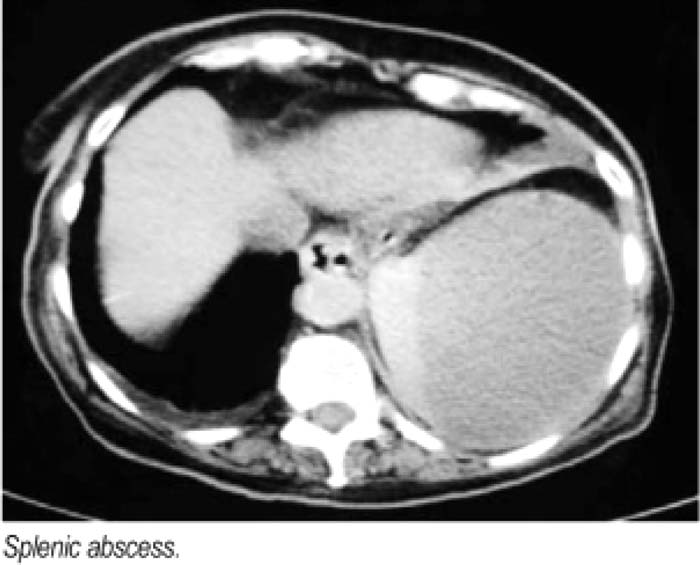 Discussion:
Splenic abscesses have diverse causes and occur in a variety of clinical settings. Splenic tissue injury and bacteremia are required to form abscesses. Splenic tissue injury/infarcts can occur in trauma, hemoglobinopathies, and vasculitis. Bacteremia can occur from infective endocarditis, pelvic diseases, urinary tract infections, pneumonias, local contiguous spread, and osteomyelitis. Our patient was an active woman who developed urosepsis with Klebsiella that was successfully treated with antibiotics. Bacteremia from this sepsis caused seeding of the bacteria in the spleen causing splenic abscess. The clinical features of splenic abscess are nonspecific. The degree of clinical suspicion has to be high, as it is frequently fatal if left untreated. CT scan of abdomen is the most commonly used diagnostic tool with sensitivities and specificity approaching more than 90%–95%. Patients require aggressive antibiotic treatment with surgery. Treatment of splenic abscess is essentially surgical with splenectomy being traditionally the treatment of choice. Our patient had a failed treatment with antibiotics and imaging guided percutaneous drainage of the abscess. Hence, she had to undergo open splenectomy. Cultures from splenectomy tissue grew Klebsiella oxytoca, which was the same species from the blood and urine of the patient.
Conclusions:
Splenic abscess, though rare, has to be kept in the differential diagnosis, especially in elderly patients with fever because of nonspecific presentations and potentially lethal outcome if left untreated.
Author Disclosure:
M. Krishnamurthy, none; O. lllonze, none; M. Matos, none.