Case Presentation: A 35-year-old HIV positive gentleman presented to the hospital with acute bilateral flank pain associated with dysuria and "sandy pink" urine. He was diagnosed and treated for central nervous system (CNS) Toxoplasma gondii with sulfadiazine and pyrimethamine approximately one month prior to this hospitalization. Vitals signs were stable. Physical exam revealed right abdominal, suprapubic, and flank tenderness to palpation. Diagnostic tests were notable for a creatinine of 1.9 mg/dL (baseline creatinine of 1.2), and urinalysis showed cloudy urine with trace leukocyte esterase, 1+ proteinuria, and 3+ blood. Urine culture was sent on admission. A computed tomography (CT) scan of the abdomen and pelvis with contrast showed findings suggestive of bilateral pyelonephritis without evidence of abscess, perinephric collection, or hydronephrosis. He was admitted to the medicine service for pyelonephritis and acute kidney injury. Intravenous Piperacillin-Tazobactam was started. Renal function continued to worsen despite fluid resuscitation and antibiotics. A renal ultrasound demonstrated a non-obstructing stone at the midportion of the left kidney with an equivocal correlate on CT scan of the abdomen. Antibiotics were discontinued after urine cultures showed no growth. Urine sediment was notable for "shock of wheat crystals". Analysis of stones from the strained urine yielded N4-Acetyl-Sulfadiazine crystals. Sulfadiazine was discontinued and the patient was started on a regiment of clindamycin and pyrimethamine for CNS toxoplasmosis. The patient was given aggressive intravenous fluids and furosemide with improvement in creatinine to 1.2 mg/dL at the time of discharge.
Discussion: Obstructive acute renal failure associated with sulfadiazine has been reported since the 1940s. Sulfadiazine is acetylated in the liver and excreted in the urine. Low aqueous solubility leads to precipitation in the urine and subsequent mechanical abrasion, chemical irritation, and tubular inflammation. One retrospective study reviewed 35 Acquired Immunodeficiency Syndrome (AIDS) patients from 1987 to 1995 and found an incidence of sulfadiazine associated renal impairment of 1.9%-7.5% with a median onset after roughly 3 weeks of treatment (1). Principles of therapy include rehydration with a goal urine output of 1.5 Liters per day along with urine alkalinization with a goal pH of at least 7.15. In this particular cohort, nearly 90% of patients showed substantial or complete renal recovery over a median of 6 days after initiating treatment. Sulfadiazine can either be continued at a lower dose or substituted with clindamycin and pyrimethamine.
Conclusions: Pigment Nephropathy due to sulfadiazine therapy is a rare complication of treatment for CNS Toxoplasma gondii. The broad constellation of presenting signs and symptoms combined with a relative paucity of cases can make accurate and timely diagnosis challenging. This case serves as an important reminder to recognize medications as a potential etiology of acute kidney injury and abdominal pain in HIV positive patients receiving treatment for CNS Toxoplasmosis infection.
Reference:
1. Becker K, Jablonowski H, Haussinger D. Sulfadiazine-Associated Nephrotoxicity in Patients with the Acquired Immunodeficiency Syndrome. Medicine (Baltimore). 1996 Jul;75(4):185-94.
IMAGE 1: Pigment Nephropathy- Shock of Wheat crystals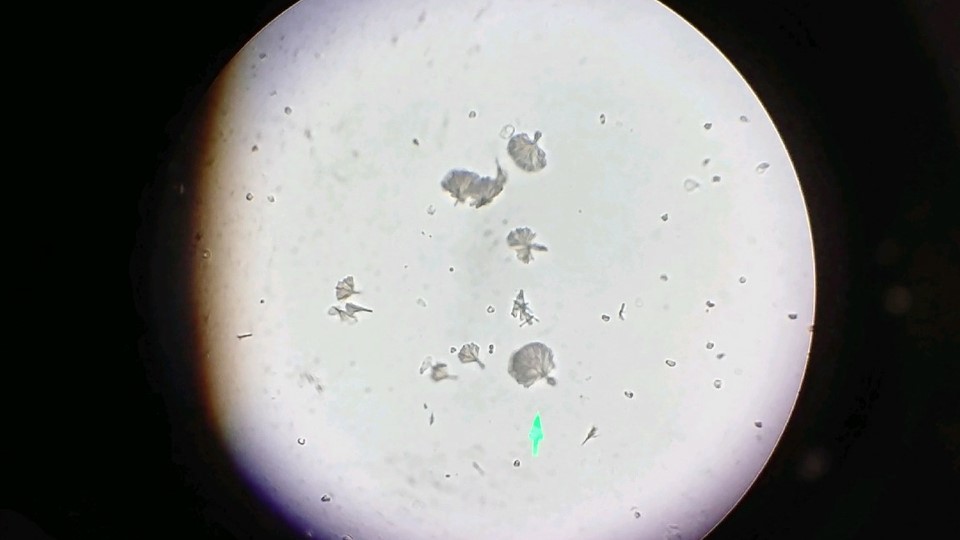 IMAGE 2: Sulfadiazine Crystal Stones