Case Presentation:
A 60‐year‐old, previously healthy woman presented with intermittent right‐sided numbness. She also had a lump on the left parietal scalp for a year with no symptoms. This was assessed outpatient and was adjudged to require no intervention. Physical exam showed a left parietal 5 × 5 cm soft fluctuant mass. She had no focal neurological deficits on exam. Family history was relevant for lung cancer in mother. Patient was a nonsmoker. MRI of the brain revealed 5.1 × 7.2 × 4 cm extra‐axial mass in the left high parietal parasagittal area near the vertex containing calcifications with abroad attachment to the dural convexity and parasagittal meninges. There was extension of the mass through the parietal calvarium with lucency and hyperostosis of parietal calvarium and soft‐tissue mass in the parietal scalp near the vertex. MRI of the neck and chest revealed a 4.5 × 3.2 × 4.5 cm paratracheal mass in the apex of the right lung with enlarged paratracheal lymph nodes and possible invasion of the superior vena cava. MRA showed a 5‐cm area of invasion of the superior sagittal sinus by the parietal parasagittal extra‐axial mass. Patient had a skull and scalp tissue excisional biopsy that showed metastatic adenocarcinoma (keratin 54 kD and thyroid transcription factor positive), with lung as the likely primary site. The final diagnosis was lung adenocarcinoma with metastasis to skull. Preoperative catheterization showed hypervascular tumor of the skull extending into the dura, causing occlusion of the midsegment of the superior sagittal sinus, treated with endovascular embolization. This was followed by biparietal craniectomy and excision of butterfly vertex mass.
Discussion:
Skull metastasis is rare. Review of the literature show scattered isolated case reports of skull metastases from hepatocellular cancer, esophageal cancer, follicular, papillary and hurtle cell, thyroid cancer, lung, breast, prostate adenocarcinoma, uterine leiomyosarcoma, mucoepidermoid parotid tumor, Ewing's sarcoma, carcinoid tumor, pheochromocytoma, renal cell cancer, testicular germ cell tumor, and vulvar adenocarcinoma. Most of these cases had a diagnosed primary tumor beforehand. Our patient with no prior known medical history presented with skull tumor compressing the brain and causing neurological symptoms. The patient was later diagnosed with adenocarcinoma of the lung, which was the primary. To our knowledge, it is extremely rare for lung cancer to present as skull metastases. In this patient the metastasis was diagnosed before the primary lung cancer, which is also very unusual.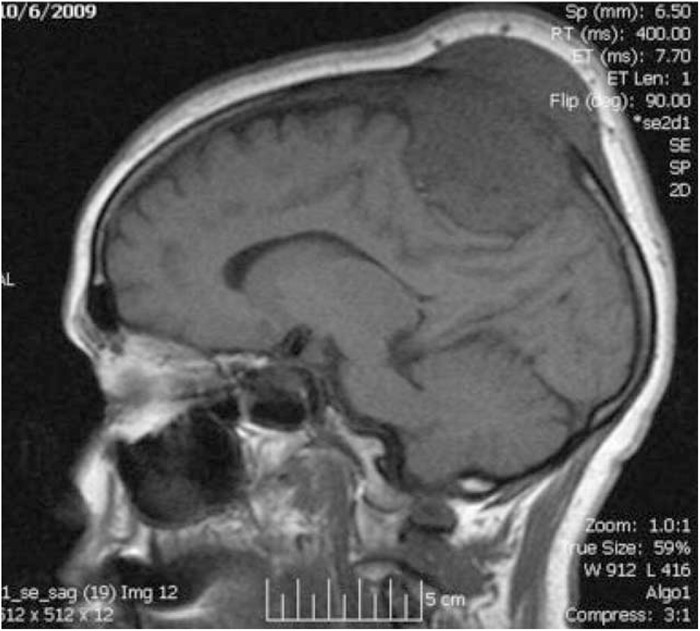 Metastatic lung adenocarcinoma presenting as skull mass. MRI of the brain showing invasion of the brain from the skull.
Conclusions:
Skull metastases should be kept in mind when working up a skull mass or lump. Skull metastases present as painless swelling and rarely cause neurological symptoms. This case shows that although rare, a solitary skull mass may be the initial presentation of lung adenocarcinoma.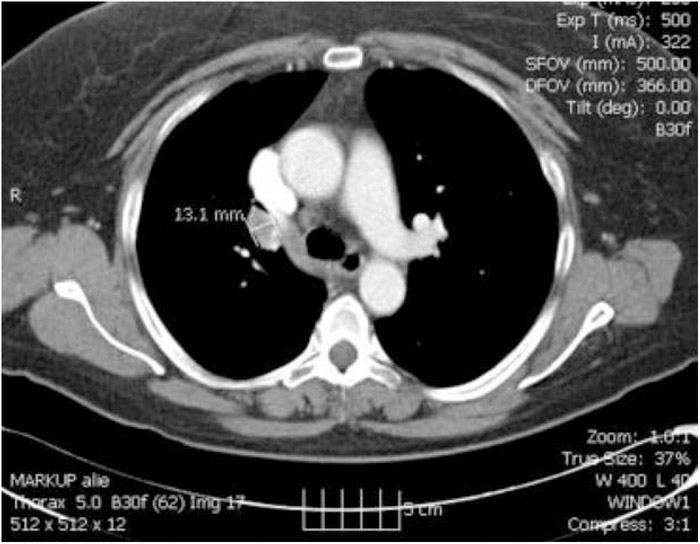 CT scan of the chest showing paratracheal mass in the right lung. Biopsy showed adenocarcinoma of the lung.
Disclosures:
S. Pathak ‐ none; H. Pathak ‐ none; A. B. Chandra ‐ none