Case Presentation:
A 60‐year old woman with type 2 diabetes mellitus presented with a 1‐week history of worsening left eye pain, redness, and gradual vision loss following a recent outside hospitalization. She also complained of a 2‐week history of low‐grade fevers, decreased appetite, and unintentional weight loss without abdominal pain, nausea, or vomiting. While at the other hospital, she was given ciprofloxacin for an "infection" and eye drops for conjunctivitis. On exam, she was afebrile. The left eye showed marked proptosis, erythematous eyelid swelling, and an opaque cornea (Fig. 1) with no light perception. The right eye showed 2 small, creamy retinal lesions. Suspecting bacterial/fungal endophthalmitis with orbital cellulitis, the patient was treated with intravenous vancomycin, cefepime, amphotericin B, and intravitreal voriconazole. She underwent an abdominal CT that showed findings consistent with perforated cholecystitis and a pericholecystic abscess (Fig. 2). Subsequently, the patient underwent a laparoscopic cholecystectomy with findings of gangrenous calculous cholecystitis. An orbital CT was also done t showed a loculated fluid collection surrounding the left orbital globe that led to enucleation of the left eye and drainage of the orbital abscess. The culture of the gallbladder grew Klebsiella pneumonia, and the outside hospital cultures grew Klebsiella from blood and Klebsiella and Candida albicans from urine. The patient recovered well and completed a 12‐week course of fluconazole and ceftriaxone/ciprofloxacin with improved chorioretinitis of the right eye on subsequent clinic visits.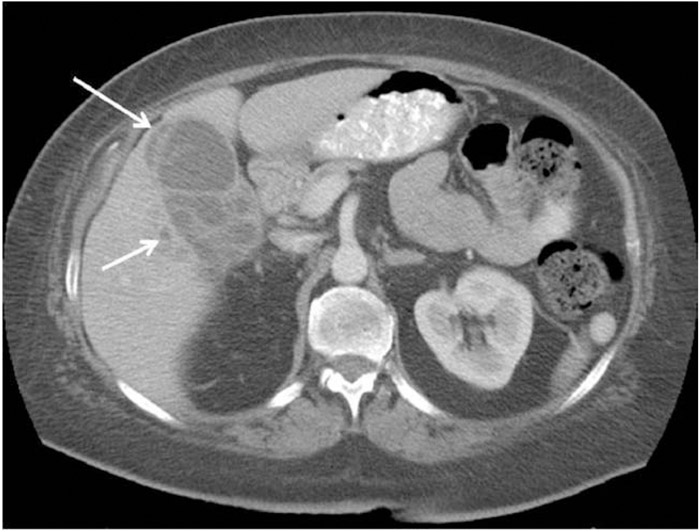 FIGURE 2. CT imaging showing multilocular cystic lesion in the gallbladder fossa representing pericholecystic abscess with small hepatic abscesses.
Discussion:
Endogenous endophthalmitis is an uncommon but serious intraocular infection caused by the hematogenous spread of microorganisms during bacteremia from a remote source and necessitates prompt treatment with intravenous antibiotics. Systemic symptoms may be absent in up to half of cases, and a thorough examination is needed to identify and treat the primary source. Rarely endophthalmitis may progress to orbital cellulitis, resulting in poor outcomes, especially in diabetic patients. In 1 study involving 218 patients with orbital cellulitis, endogenous endophthalmitis was the predisposing cause in 29 patients (13.3%), and all of them required enucleation despite systemic antibiotics.
Conclusions:
Endophthalmitis and orbital cellulitis are serious conditions that may be sight‐ and life‐threatening if not recognized and treated immediately. Hospitalists should be informed of these ocular diagnoses that may represent an insidious systemic infection and should strive for a prompt diagnosis of an underlying process.
Disclosures:
H. Kim ‐ none; S. Nichani ‐ none