Background: Healthcare costs are a challenge; for the greatest impact, high-value care education should begin early in residency training. Routine lab ordering for hospitalized patients is a well-known cause of high costs. This study utilized multiple interventions to decrease the number of BMPs, CMPs and CBCs ordered by residents on the inpatient medicine service. The aim was to decrease these laboratory orders by 15% by end of the 2017-2018 and to educate on meaningful labs.
Purpose: Subjects were Internal Medicine residents rotating through the inpatient medicine service. Data included pre- and post-study surveys (designed by the study team) to assess knowledge of lab costs, ordering practices and barriers to cost-conscious care. We obtained the number of labs ordered from the electronic medical record (EMR). The project was divided into three sixteen-week blocks. Phase 1 focused on educational interventions (presentations and weekly emails). During Phase 2, educational interventions were stopped while EMR changes offered varied lab ordering options. In Phase 3, the study team designed and presented case-based high-value care sessions to residents, a mid-block session updating residents on their own "real time" lab ordering data, in addition to restarting the interventions from Phase 1.
Description: Phases 1 and 3, showed a 7% decrease in total labs ordered compared to baseline; phase 2 showed a 7% increase from baseline. Figure 1 shows an overall statistically significant uptrend in the number of CBC without differential/1000-patient days compared to a downtrend in the number of CBC with differential/1000-patient days. Figure 2 reveals a statistically significant decrease in the number of CMP/1000-pt days and an uptrend in the number of BMP/1000-pt days. Survey data in Phase 2 revealed a statistically significant increase (p<0.05) in residents' discussing lab ordering with their teams from 58% to 98%. Phase 3 resulted in a decrease in residents who ordered daily labs due to fear of repercussions from the attending, 39% to 9% (statistically significant). Phase 2 showed a statistical significant decrease in residents who ordered daily labs due to "feeling uncomfortable" in deciding who warrants daily labs which sustained through Phase 3. At the end of phase 3, there was a statistical increase in residents who self-identified a difference in their ordering habits and applied mindful ordering across services (40% to 78.57%). In addition, 50% of residents felt at least somewhat uncomfortable without morning labs in Phase 2, which showed a statistically significant decrease to 14% in Phase 3.
Conclusions: Our data shows residents are thinking more before ordering. The trend of the number of labs ordered highlights the importance of multifaceted educational interventions in maintaining a cost-conscious culture. The increase in CBC without differential and BMPs compared to CBC with differential and CMP shows that residents are ordering labs more judiciously. Residents are recognizing the value of "getting only what you need" when ordering lab tests on their patients. We believe the change in resident perception of the attending as a barrier suggests a cultural change at both the attending and resident level. Anecdotally, after phase 3, new interns have reported feeling empowered to order only necessary tests and incoming senior residents report teaching interns to "think" before ordering labs. We see this as the beginning of a true culture change and anticipate continued decreases in lab ordering as this culture spreads.
IMAGE 1: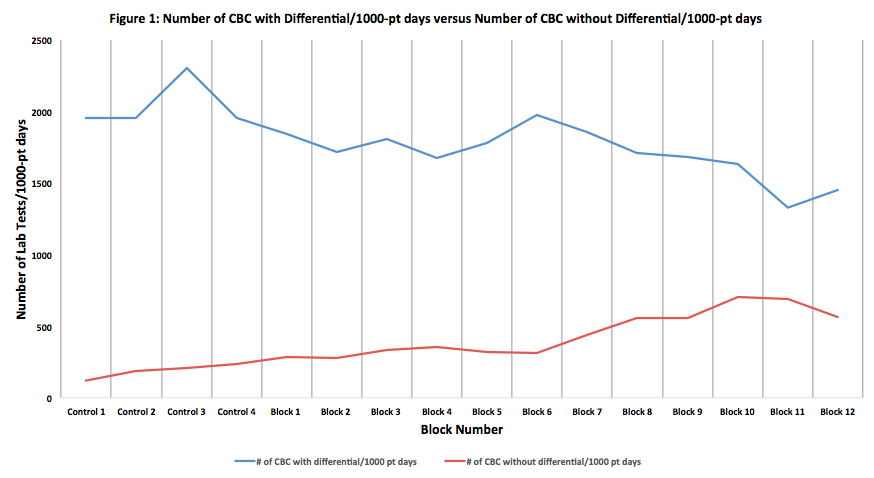 IMAGE 2: