Case Presentation:
A 44‐year‐old man was admitted to the hospital for workup of recurrent localized sharp left‐sided abdominal pain associated with frequent loose stools for a year's duration. There was remote few rectal bleeding and 40‐pound documented weight loss. No significant history of nausea, vomiting, food intolerance, or change in appetite. Family history was noncontributory, and social history was significant for smoking but no alcohol abuse. Physical examination including rectal exam was noncontribulory except for tenderness in the left upper quadrant and flank areas with no rebound tenderness or palpable masses. Malignancy and inflammatory bowel diseases were suspected; however, occult blood test and CT abdomen and pelvis were negative. Urine analysis was normal. By further workup, colonoscopy showed normal colon except for an isolated discrete ulcer in the splenic flexure, which was biopsied. Histopathology study revealed ischemic colitis changes from the ulcer with healthy normal tissue in the rest of his bowel biopsies. Thrombophilia screening was negative. After urine toxicology screen results, the patient admitted cocaine and marijuana abuse.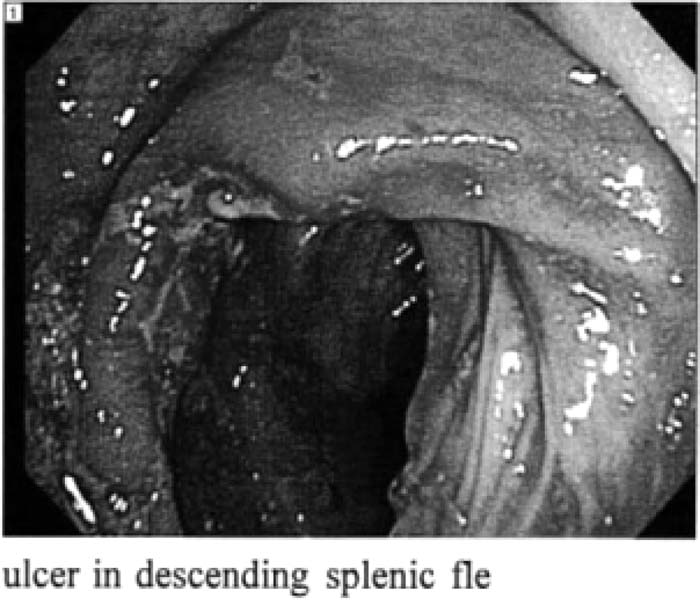 Discussion:
Isolated ischemic bowel ulcer is an uncommon presentation of ischemic colitis. lt was found that cocaine abuse is more often present with upper gastrointestinal pathologies (prepyloric or duodenal perforation) compared with lower gastrointestinal ones. Bowel ischemia, gangrene and perforations are reported as rare examples of cocaine gaslrointestinopathies In our patient, with the absence of common risk factors for ischemic colitis and the normal CT scan result, we searched in the literatures for other possible causes. K was reported thait cocaine‐induced bowel disease manifest; as Ischemic ulecrs likely a result of vasoconstriction mechanism. To date, there have been 30 cases reported, and interestingly enough, they were in their third and fourth decades at time of presentation. In 1985 the first case was described after the dramatic increase of cocaine usage in young patients. The interval between drug ingestion and the onset of symptoms varied from 1 hour to 2 days. Selective abdominal arteriography is a good diagnostic modality for patients with mesenteric ischemia; however, this has not been reported in patients with cocaine‐induced ischemia.
Conclusions:
Cocaine‐induced ischemic colitis is a rare reported presentation of cocaine abuse but should be included in The differential diagnosis of young or middle‐aged risky patients with abdominal pain and mild bloody diarrhea. Colonoscopy to diagnose and to rule out other causes is the standard modality of choice.
Author Disclosure:
K. Shaheen. St. Vincent Charity Hospital, Cleveland, Ohio, Resident Internal Medicine; M. Bibars, St. Vincent Charity Hospital, Cleveland, Ohio, Resident Internal Medicine; C. Alraies, Cleveland Clinic Foundation, Cleveland, Ohio, hospitalist.