Case Presentation:
A 28‐year‐old previously healthy female with a history of intravenous drug abuse (IVDA) was referred to our hospital after 2 days of progressively worsening right monocular vision loss. Three days prior to symptom onset, she experienced fever, chills, and night sweats. She acknowledged right central vision loss with sparing of the peripheral visual field. She denied ocular trauma, pain, erythema, edema, diplopia, or irritation. On delving deeper into her history of drug use, she explained that she would dissolve drugs in unrefrigerated lemon juice and heat this product just before injecting herself. Physical exam revealed multiple scattered, tender subcutaneous nodules along the scalp. On fundoscopic exam of The right eye, a whitish lesion was found centered over the macula. Vision of the unaffected left eye was 20/20, but the patient's visual acuity was impaired to the point that she could only count fingers using her right eye. Thin frozen sections of a scalp nodule revealed inflammation and yeast infection. Fungus cultures from scalp pustule and biopsy revealed Candida albicans. She was started on fluconazole 800 mg intravenously daily for 1 week. Repeat retinal exam revealed a whitish fluffy lesion over the right fovea which had become well circumscribed. Within several days, there was resolution of the scalp nodules. The patient was discharged on oral fluconazole 400 mg daily with close ophthalmologic follow‐up.
Discussion:
Ocular candidiasis in the setting of IVDA is rare. Candida endophthalmitis usually has a slow, indolent course and may present unilaterally or bilaterally. Symptoms may include a red and painful eye, decreased vision, and photophobia. Fundoscopy typically shows small, while, inflammatory exudates with fluffy borders located al the retina‐vitreous interface. In 1988, authors reported a cluster of cases of Candidal infections in intravenous drug users wherein they identified lemon juice, used by these addicts to dissolve the drugs, as the harbinger of yeast. They demonstrated that C. albicans is killed after 6 hours in newly preserved juice. However, if the juice was old or even short steamed, an exponential increase in yeast was observed. The unrefrigerated lemon juice was almost certainly the source of our patient's infection.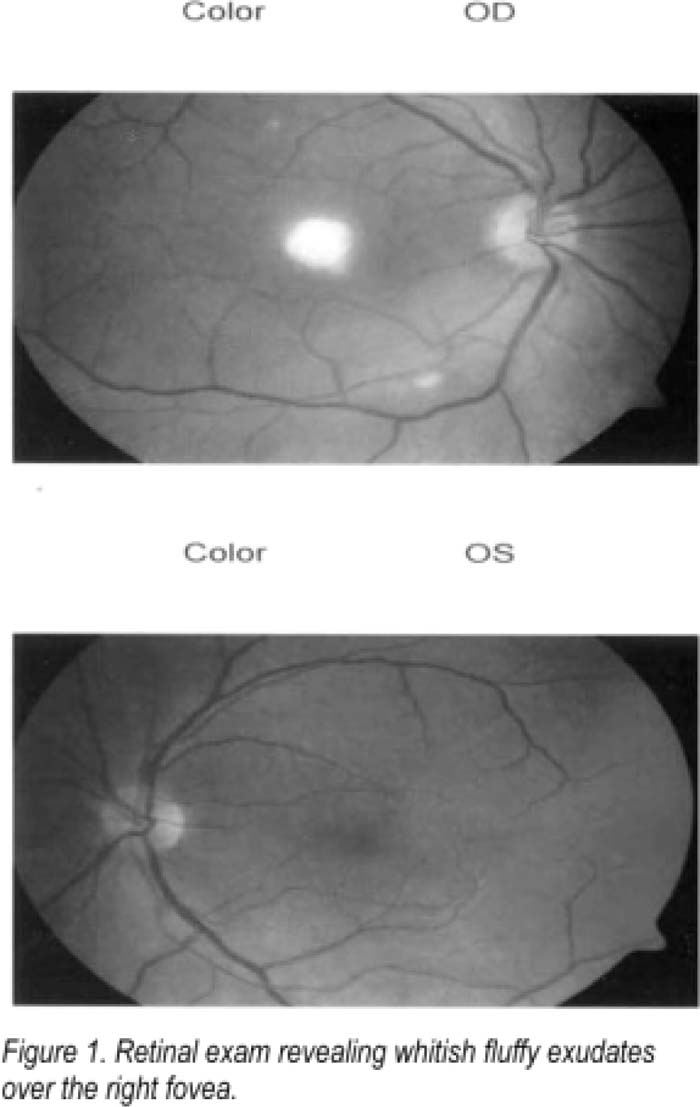 Conclusions:
The astute hospitalist should consider Candida endophthalmitis in the differential of any patient with a history for IVDA who presents with vision loss. Prognosis is influenced by the time until therapy is initiated. Because vision loss is often irreversible, rapid diagnosis is critical. A complete history along with thorough skin and eye exam is essential to clinching the diagnosis. Education of those injecting drugs about the dangers of dissolving drugs in lemon juice may also be a reasonable preventive strategy.
Author Disclosure:
C, Harris, none; S, Eid, none; F, Kisuule, none: M. Kantsiper, none: S, Wright, none.