Background: Handoff miscommunications are a leading source of medical errors. Medical error and adverse event rates decreased following implementation of the I-PASS handoff program (a bundled intervention using a structured mnemonic, I-PASS, and other initiatives to sustain implementation) in a pediatric research trial. Whether I-PASS can be implemented in settings outside academic pediatric institutions is unknown.
Methods: Our objectives were 1) To implement I-PASS for resident physician end of shift handoffs in a variety of hospitals and medical specialties using a mentored process; and 2) To measure the association of I-PASS implementation with handoff quality and provider-reported medical error rates. We implemented I-PASS in 32 hospitals [community (n=12), academic (n=20)] and multiple specialties [internal medicine (n=13), pediatrics (n=12), other (n=7)]. We paired each site with an external mentorship team of I-PASS experts that conducted a site visit and provided ongoing monthly coaching. Site leads participated in program wide webinars and shared data with participating sites. Validated handoff observation tools and a provider survey assessed verbal and written handoff quality and rates of handoff-related adverse events.
Results: Across 32 participating hospitals, we assessed verbal handoff sessions of the giver (n=4176) and receiver (n=3385), reviewed printed handoff documents (n=1770), and distributed monthly end of rotation surveys (n=2081). Implementation was associated with increased inclusion of all 5 I-PASS mnemonic elements for both verbal (21% vs 64%; Figure 1) and written (10% vs 67%) handoffs. Additionally, increases were noted in the frequency of high quality verbal (31% vs 73%) and written (55% vs 71%) patient summaries, verbal (21% vs 71%) and written (42% vs 69%) contingency plans, and verbal receiver syntheses (47% vs 78%). Handoff-related adverse events decreased by 42% (Figure 2). All changes statistically significant (p<0.05). Improvements were similar across provider types (adult vs. pediatric) and settings (community vs. academic).
Conclusions: The I-PASS Handoff program is associated with improved handoff communication and patient safety across a variety of settings and provider types.
IMAGE 1: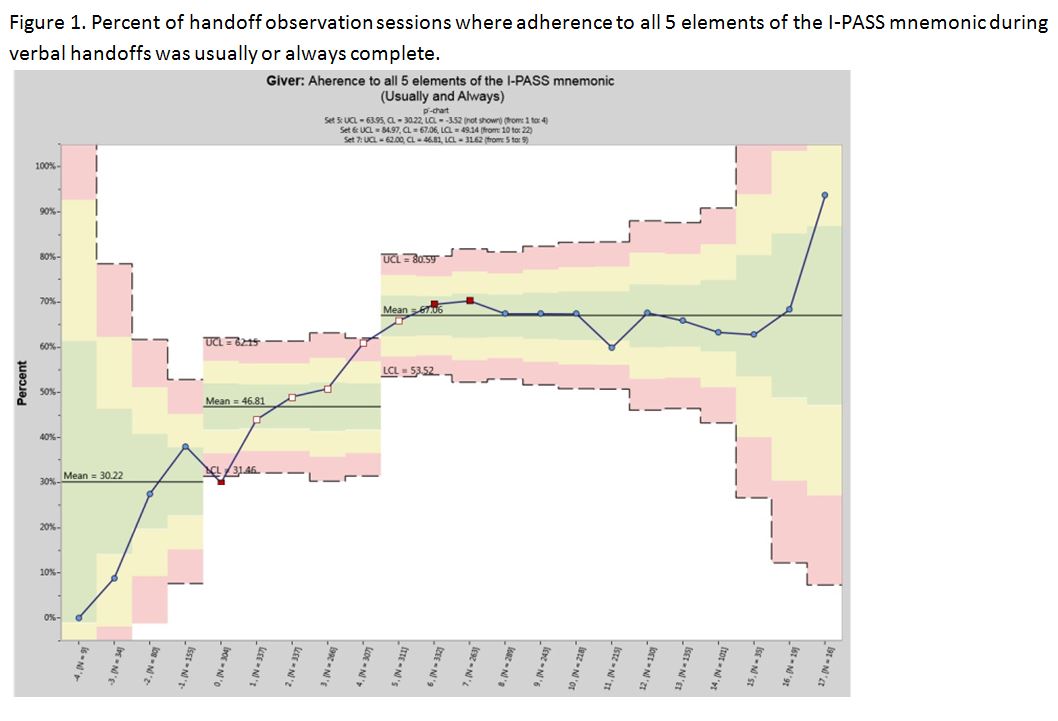 IMAGE 2: Figure 2