Case Presentation: A 59-year old male with a history of hypertension, chronic kidney disease, and Stanford Type A aortic dissection (treated six years prior by open followed by endovascular repair) presented with a four-day history of hematemesis associated with midsternal chest pain. He reported taking a nifedipine tablet, which felt like it was "stuck in [his] esophagus." He had an episode of hematemesis one hour later, which produced approximately one tablespoon of bright red blood. He continued to experience one to two episodes of hematemesis daily, and went on to develop melena.
Vital signs were normal upon presentation. Digital rectal examination revealed melena, and hemoglobin was noted to be 5.7 g/dL. Chest radiograph showed an aortic endovascular stent, with expansion of its superior steel hoops concerning for esophageal impingement. Diagnostic esophagogastroduodenoscopy revealed an adherent clot in the proximal esophagus, in the region of the transverse aortic arch. The area appeared vascularized and was thought to be an aortoesophageal fistula with an overlying well-formed clot.
Emergent diagnostic thoracic aortogram exposed a Type 1 endoleak with reconstitution of an expanding thoracic aortic aneurysm proximally on the thoracic aorta endovascular repair graft. A GORE® TAG® endovascular prosthetic stent was implanted distal to the left common carotid artery, over the orifice of the left subclavian artery, into the prior Talent® thoracic endovascular aortic repair graft. An AMPLATZER™ plug was implanted into the left subclavian artery to further seal the Type 1 proximal endoleak.
The patient was discharged four days later, and he has been followed as an outpatient by gastroenterology and vascular surgery. An interval esophagogastroduodenoscopy performed eight months postoperatively demonstrated mucosal healing.
Discussion: Chiari's triad of aortoesophageal fistulas, first noted in 1914, described chest pain, a herald bleed, and rapidly fatal exsanguinating hematemesis. The incidence of secondary aortoesophageal fistulas has risen with the widespread use of surgical repair of thoracic aneurysms. Unfortunately, many patients experience fatal exsanguination prior to diagnosis. Reports of successfully managed aortoesophageal fistulas are exceedingly rare in the literature.
Conclusions: Our case highlights that hospitalists must maintain a high index of suspicion for an aortoesophageal fistula in a patient presenting with hematemesis in the setting of prior aortic repair. The period between a prodromal hemorrhage and exsanguination can range from hours to days, making a prompt diagnosis crucial to a patient's survival. When an aortoesophageal fistula is suspected, emergent consultation with a cardiothoracic or vascular surgeon is vital in decreasing morbidity and mortality from this often fatal diagnosis.
IMAGE 1: Adherent clot in proximal esophagus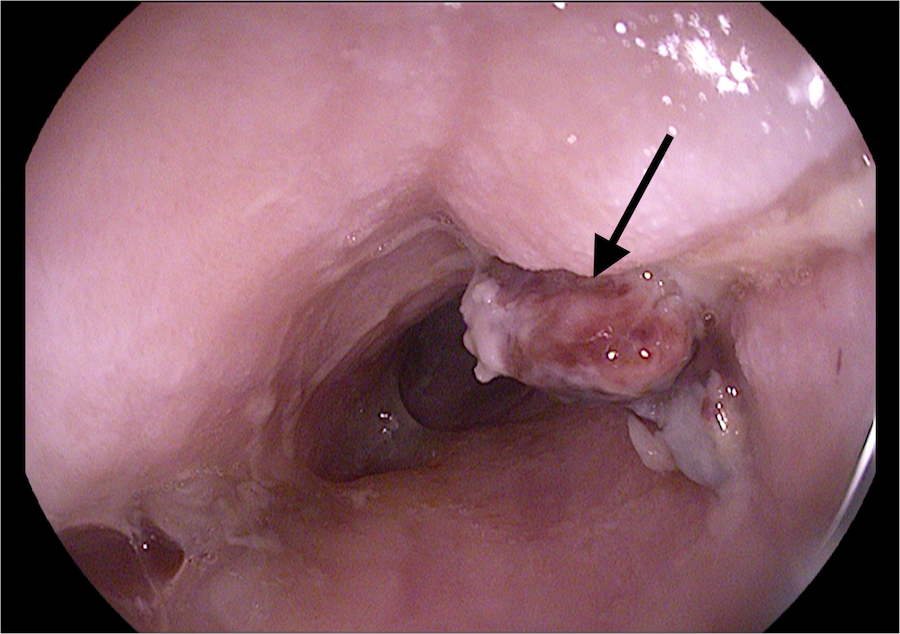 IMAGE 2: Postoperative mucosal healing