Case Presentation: The patient is a 23 years old Hispanic male with no significant past medical history presented to the ED with the chief complaints of sore throat, headache, nausea, vomiting for 5 days. He was at his baseline health status 5 days ago, when he started noticing malaise, followed by sore throat and fever. The pain in the throat was more on the left side, worsened with swallowing. He denies any smoking, alcohol abuse, or recreational drug use. He is a college student, in a monogamous relationship.
On initial evaluation, T 37.6 ᵒC, BP 93/60 mmHg, HR 146/min, SpO2 98% on 2 L of nasal cannula oxygen. He is a well-nourished young male in acute distress. He had bilateral tonsilar enlargement, swollen uvula with bilateral anterior cervical lymphadenopathy. His cardiac exam revealed tachycardia, regular rhythm with no murmurs. His lung exam revealed bilateral air entry with no added sounds. His abdomen was soft. No skin rashes were noted and his neurological examination was non-focal. Initial laboratory investigations showed acute kidney injury, lactic acidosis, leukocytosis, lymphopenia and thrombocytopenia. CXR was normal. EBV serology, throat culture, respiratory virus panel and HIV and cocci serology were negative. Blood cultures were drawn and the patient was volume resuscitated. A working diagnosis of sepsis secondary to EBV pharyngitis was made. On day 1 of hospital stay, he reported cough, CT chest showed multifocal pneumonia suggesting hematogenous spread of infection. Given the septic embolic presentation and sore throat, Lemierre's disease was considered. He was started on broad spectrum antibiotics. CT scan of the neck showed a partially occlusive thrombus in the left internal jugular vein. Blood culture eventually grew F. necrophorum and was sensitive to amphicillin-sulbactam and meropenem. Antibiotic therapy was de-escalated to amphicillin-sulbactam. He remained febrile for five days even after the start of antibiotic therapy. Repeat blood cultures were negative. The patient was discharged home on 4 weeks of IV antibiotic therapy. On follow up after 4 weeks, he was doing well and antibiotic was switched to oral to complete 6 weeks of therapy.
Discussion: Lemierre's syndrome is suppurative thrombophlebitis of the internal jugual vein that usually begins as a tonsilar infection which later progresses to bacteremia and causes septic emboli. It is typically caused by Fusobacterium necrophorum. Lemierre originally described this syndrome in 1936. It is an old disease with a recent increase in the incidence.
Lemierre's disease is a serious complication of pharyngeal infections. It is a rare disease with increasing incidence. Often difficult it is to diagnose because of its rarity and myriad presentations. Unless treated early, this disease is fatal.
Conclusions: 1. It is important that frontline providers are aware of this clinical syndrome of pharyngitis, internal jugular vein thrombosis and septic embolism.
2. The empiric therapy for this syndrome should include beta lactamase inhibitor.
IMAGE 1: Internal Jugular Vein Thrombus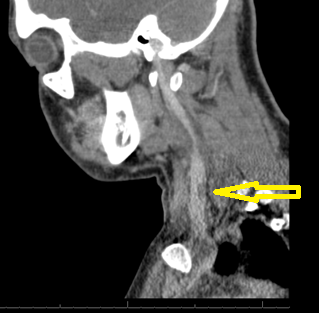 IMAGE 2: Multifocal Pneumonia