Case Presentation: 27 year old Caucasian female admitted with fever, abdominal pain radiating to back. She was not an IV drug user. Has a recent history of facial abscess following spider bite but no signs of cellulitis over extremities. There was a small red spot on lower right eyelid, no Osler nodes, janeway lesions, no track marks, no murmur. Blood cultures were positive for MRSA. Patient was started on vancomycin. CT Abdomen and Pelvis showed Nodular tree in bud parenchyma. CT-chest showed Cavitary lesion which raised suspicion of infectious process. MRI –spine showed Epidural abscess. . In order to further evaluate the infectious process TEE was done that showed competent, perivalvular, moderate pulmonary valve vegetation. She was hence diagnosed with pulmonic valve endocarditis complicated by septic pulmonary emboli and epidural abscess. She was managed medically and had lumbar spine epidural abscess drainage and L3-L4 laminotomy. Her high grade MRSA bacteremia was treated with 6 weeks of vancomycin. It made it a unique case of Spider bite induce Inf. Endocarditis and involvement of pulmonary valve that is rare.
Discussion: Community-acquired native-valve endocarditis is as rare as 1.7 to 6.2 cases per 100,000. Out of this, right sided endocarditis is even more rare, and comprises only 5-10% of this incidence. Right sided endocarditis occurs commonly in IV drug users, patients with indwelling catheters, pacemaker leads, or structural heart disease (e.g VSD). We present a case of 28 year old woman with no previous cardiac history or identified risk factors with right sided endocarditis of the pulmonic valve complicated by septic pulmonary emboli and epidural abscess.
Most native-valve endocarditis involves the tricuspid valve. Hence pulmonary valve endocarditis without involvement of the tricuspid valve is extremely rare, with fewer than 90 reported cases. Most present with pulmonary valve regurgitation, however in our patient the valve remained competent.
Right-sided endocarditis has an incidence of 5-10% and majority of cases involve tricuspid valve. Pulmonic valve endocarditis, though unusual, mortality is relatively low. Conservative management approach is recommended for patients with infective endocarditis of tricuspid and pulmonary valve. Isolated right sided generally has low in-hospital mortality and a benign prognosis; conservative management with antibiotics usually abates the infection. Surgery is rarely necessitated when in patients with hemodynamic stability and with renal competency.
Conclusions: Isolated pulmonary valve endocarditis is a rare entity due to low pressure gradient within the right heart, low oxygen content of venous blood, lower prevalence of right sided congenital anomalies, and differences in the covering and vascularization of the right heart endothelium. Pulmonary valve involvement is a type of right sided endocarditis that can be managed by medical therapy and has specific risk factors.
IMAGE 1: Pulmonic Valve Involvement.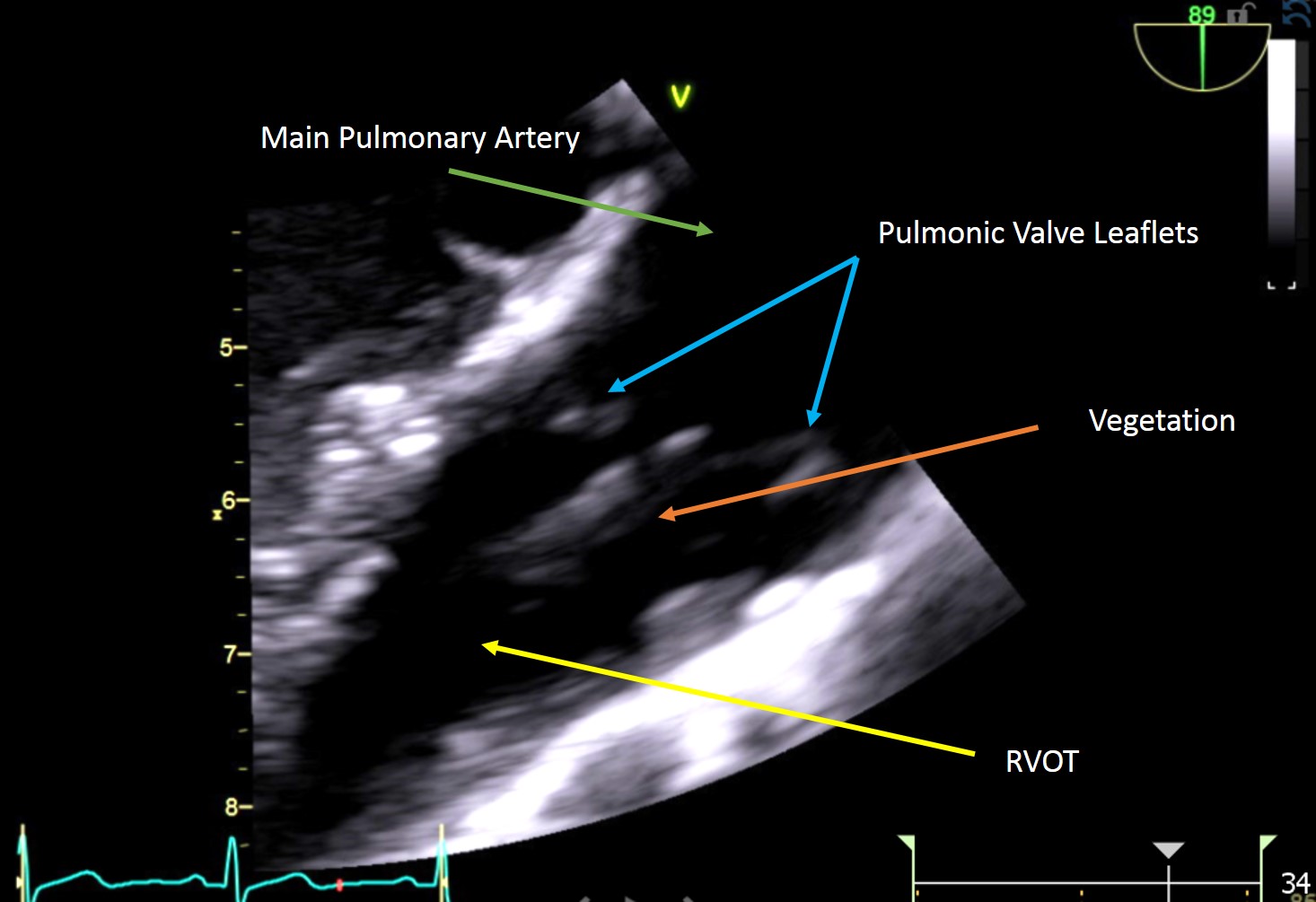 IMAGE 2: large vegetation attached to the ventricular aspect of the pulmonic valve.