Background:
Postprocedural bleeding is a significant adverse outcome. Clinicians routinely assess bleeding risk by ordering coagulation labs (INR, PTT, platelets) and administer blood products to correct any discovered coagulopathies. Certain "bleeding risk" medications are also held. Although the efficacy of these steps seems intuitive, coagulation labs were not designed to assess bleeding risk, and the need to "correct" abnormal coagulation lab values or stop certain medications has never actually been demonstrated. Further, this practice comes at the expense of valuable time, limited blood bank resources, and increased cost. The Procedure Center at Cedars–Sinai Medical Center performs approximately 1200 thoracenteses annually, and historically has relied on patients' bleeding history to determine preprocedural risk rather than routine lab screening or the presence of certain medications. To evaluate the safety of this practice, we undertook an assessment of procedural outcomes for thoracenteses relative to patients' coagulation parameters and/or the presence of blood‐thinning or antiplatelet medications.
Methods:
Patients for whom a thoracentesis was order were evaluated consecutively. A chart review was performed to capture coagulation parameters (INR, PTT, platelets), and the presence of blood‐thinning or antiplatelet medications. The decision to perform the procedure was not affected by the findings of the preprocedure chart review, and the proceduralist generally was not aware of the findings. All procedures were performed according to established Procedure Center protocol. Patients were assessed after 24 hours for complications (bleeding related or other), and complications were categorized as "major" or "minor."
Results:
A thousand consecutive thoracenteses were performed from February 2010 to October 2010. Figure 1 depicts (a) the frequency of abnormal preprocedure coagulation labs and (b) the prevalence of "bleeding risk" medications. Table 1 summarizes the incidence of complications for each of those categories. Patients with abnormal coagulation parameters or who were on certain medications did not suffer higher rates of complications than other patients.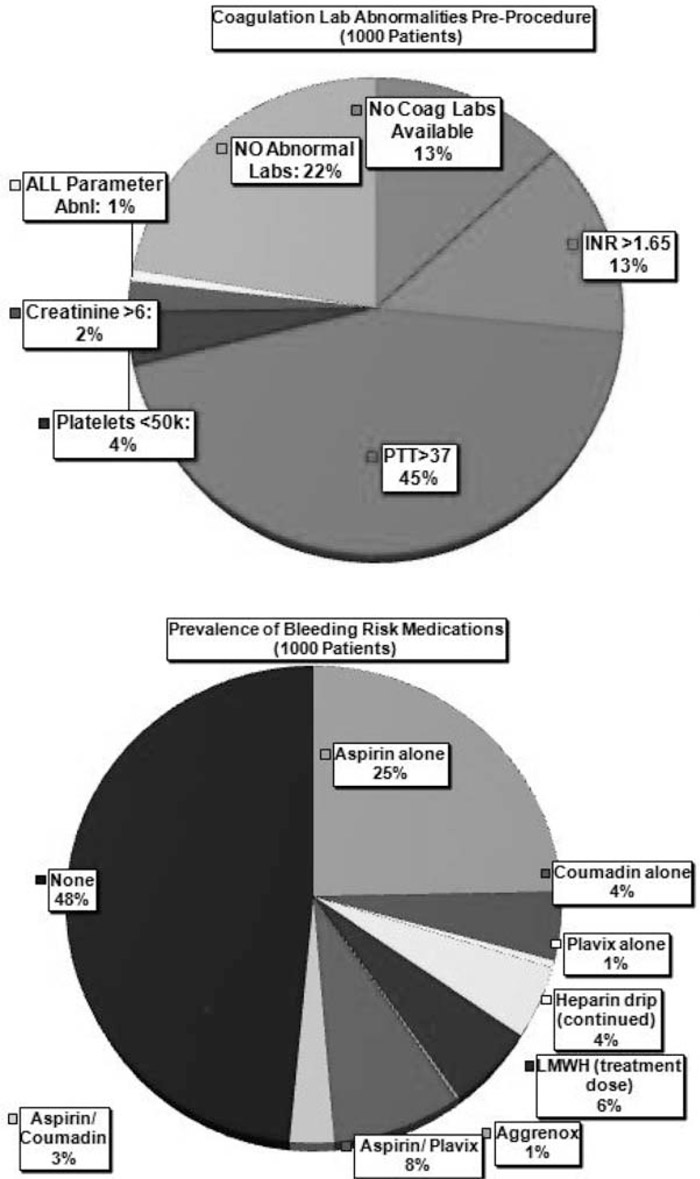 FIGURE (a) Coagulation laboratory abnormalities preprocedure. (b) Prevalence of "bleeding risk" medications.
Conclusions:
The overall complication rate in this series of thoracenteses was very low (2.4%). The presence of abnormal coagulation labs and/or blood‐thinning medications did not increase the incidence of complications. These findings suggest that routinely checking coagulation labs, transfusing blood products to correct abnormal lab values, and/or stopping certain medications prior to performing thoracenteses may be unnecessary.
Disclosures:
M. Ault ‐ none; B. Rosen ‐ none