Case Presentation:
A 72‐year‐old Dominican man with history of diabetes, hypertension, dementia, chronic renal insufficiency, epilepsy, cholesteatoma, and smoking presented for generalized weakness, confusion, otorrhea, otalgia, progressive hoarseness, and weight loss of 11 kg over 2 months. He had been treated with ciprofloxacin otic suspension for otitis externa. Physical exam revealed tongue deviation to the left, left ear deafness, left facial weakness, decreased hearing to the right ear, left otitis externa with white exudate, left vocal cord paralysis, and generalized muscle weakness. Laboratory findings included a blood glucose of 572 mg/dL with no anion gap, leukocytosis of 12.1 × 103/μL (73.4% neutrophils), glycosuria, and a hemoglobin A1c of 9.7%. Computed tomography (CT) with contrast revealed irregular destruction of the central skull base by an infiltrative, heterogeneously enhancing mass involving the posterior and superior walls of the nasopharynx with encasement of the carotid arteries bilaterally (Fig. 1). Despite nasopharyngeal malignancy as the presumed diagnosis, broad‐spectrum antibacterial osteomyelitis coverage along with lipid‐based amphotericin B was started. Nasopharyngoscopy with skull base biopsy revealed extensive osteomyelitis, fasciitis, and myositis with Aspergillus flavus. Nerve function improved after surgical decompression. Amphotericin was changed to voriconazole and continued for more than 1 year, with the patient remaining clinically stable. Repeat CT imaging revealed interval response to treatment with progressive skull base sclerosis and reduced volume of soft tissue of the nasopharyngeal wall.
Discussion:
There have been few reports of skull base aspergillosis in patients without significant underlying immunosuppression. This case brings to light the risk of uncontrolled diabetes. In addition, the clinical course was indolent in nature, presented as multiple nerve palsies involving cranial nerves IX, X, XI, and XII, and Villaret's syndrome and responded to aggressive surgical debridement with good tolerance to long‐term voriconazole. Early recognition and treatment of this entity may improve outcomes, although case reports have shown mixed results.
Conclusions:
This case illustrates an unusual presentation of Villaret's syndrome caused by invasive aspergillosis of the skull base in a patient whose only risk factor was diabetes. The importance of discussing this case is to educate hospitalists to maintain a diverse differential diagnosis, particularly in the setting of uncontrolled diabetes.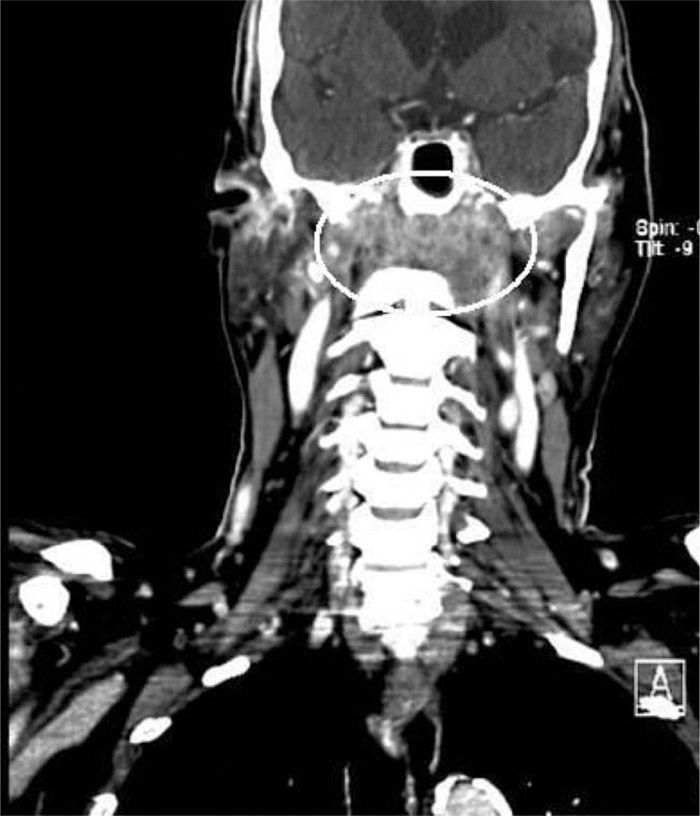 FIGURE 1. Computed tomography with iodine contrast of the head and neck demonstrating an infiltrative skull base mass.
Disclosures:
R. Goldstein ‐ none; J. Singh ‐ none; Y. Israel ‐ none; L. Sivaprasad ‐ none; M. Kobayashi ‐ none; J. Cortes ‐ none