Case Presentation: A 65 year old male with ischemic cardiomyopathy, EF of 25% and NYHA III symptoms despite optimal medical therapy, severe mitral regurgitation (MR) and left bundle branch block (LBBB) with QRS>150ms (figure 1) was referred for cardiac resynchronization therapy-defibrillator (CRT-D) implantation. The right atrial pacing and right ventricular defibrillator leads were successfully implanted, however coronary sinus(CS) lead placement for left ventricular pacing was unsuccessful due to limited target vessels and high pacing thresholds. After multiple futile attempts, CS lead placement was aborted and electrophysiologist decided to perform His bundle pacing (HBP) instead. The His bundle region was mapped using the His lead which was rotated in position when pacing revealed narrow QRS with complete recruitment of the left bundle branch at excellent pacing thresholds. 12 lead ECG post HBP showed paced QRS duration of 88ms (Figure 2), which is narrow relative to most biventricular (BiV) paced rhythms. In absence of the HBP option, which is a relatively new technique available at limited facilities, this patient would have required surgical epicardial lead placement. At six month follow-up, patient's EF improved to 40%, MR to mild and NYHA class to I.
Discussion: Typically, CRT is done via implantation of leads in RA, RV and CS to attempt biventricular pacing and negate the detrimental effects of bundle branch block on ventricular synchrony. However the CS lead insertion may fail in 3-4% cases due to reasons such as unfavorable coronary venous anatomy, unacceptable pacing thresholds or diaphragmatic stimulation. HBP is a safe, feasible, superior and physiologic pacing technique when compared to RV pacing. HBP is also a fast emerging alternative to BiV pacing. Recent data has shown that HBP can improve LVEF and NYHA class in patients with heart failure. Most patients with BBB have relative slowing of conduction rather than complete block with site of block often in the His bundle fibers predestined to become the right or left bundle branches . Therefore, it is possible to map and pace the His bundle and partially or completely recruit the bundle branches resulting in significant QRS narrowing.
Conclusions: The internist must be familiar with rapidly growing evidence behind use of HBP. HBP is a safe and feasible alternative to RV pacing. As highlighted in our case and by other studies, HBP may be a feasible alternative to BiV pacing and must be attempted in failed BiV implants before resorting to complex interventional or surgical techniques.
IMAGE 1: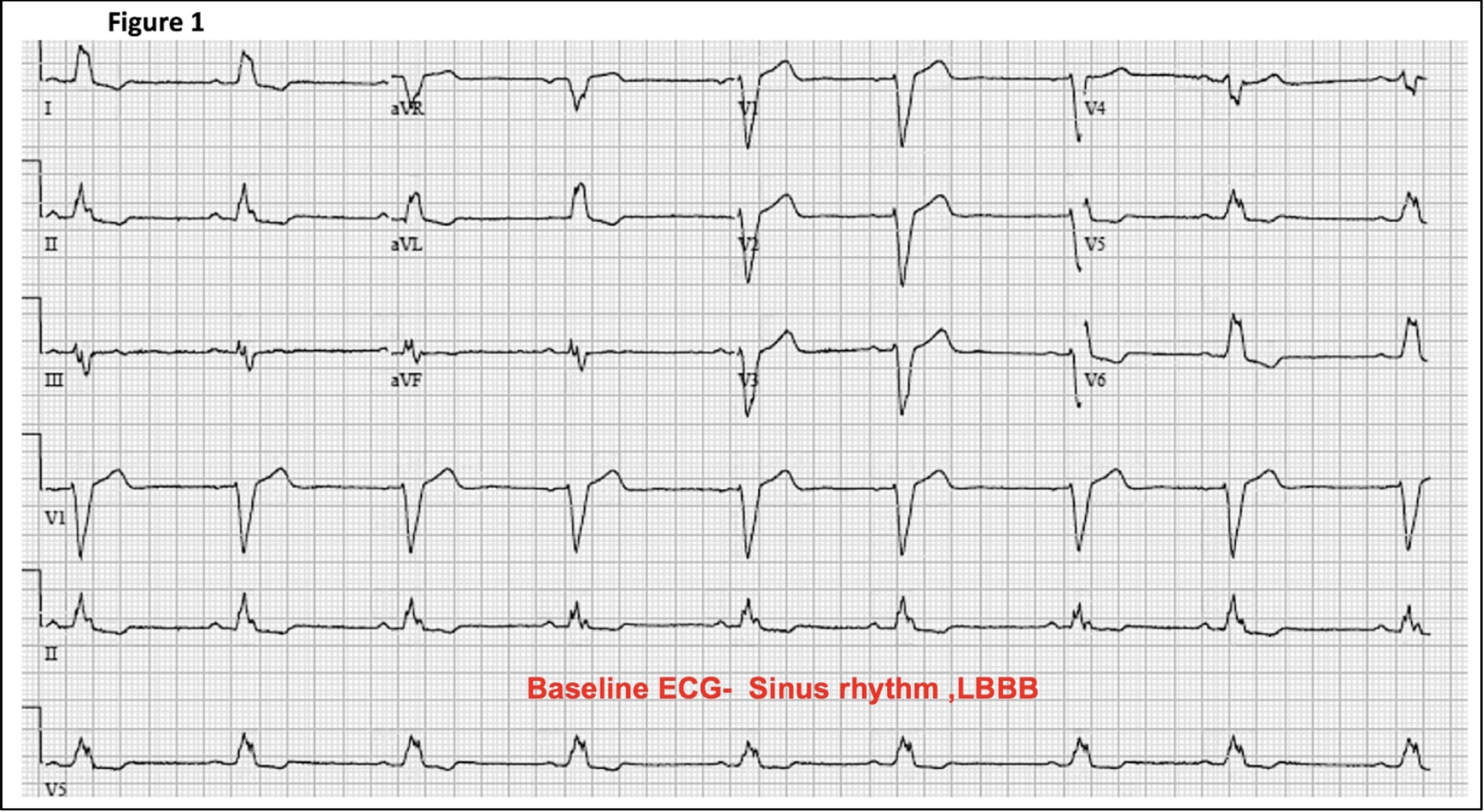 IMAGE 2: