Background: High volume communications to physicians for non-emergent issues can disrupt workflows and cause delays and inefficiencies. The frustration caused by unnecessary communication can also affect the job satisfaction of the Care Team. Physicians at Mercy North Iowa received an average of 140 pages for call back on medical cases every day from January 2015 to June 2015; most of these pages were for non-emergent issues from nursing. The majority of pages occurred from 12 pm to 7 am, meaning our providers on swing and night shifts were affected the most. We sought to reduce pager volume of non-emergent communications using a formalized procedure to discreetly detail the situation, background, assessment, and recommendation (SBAR) in communications to the physician.
Methods: We introduced three measures to attempt to reduce pager volume:
1. July 2015: An SBAR prompt card was developed for empowering nursing to physician communication (Figure 1). All nursing units received training on the use of the SBAR tool, and training was incorporated into RN residency programs and new hire nursing onboarding (RN, LPN, CAN).
2. March 2016: Implemented Multiple Disciplinary Rounds at the patient's bedside between the hospitalist and the bedside nurse on one general medical floor to facilitate communication of the care team during day rounding. We focused this intervention on a high volume unit to provide an opportunity to improve communication during physician rounds. This also allowed patient participation in this conversation and fostered teamwork between care teams.
3. March 2016: The physician team adjusted the swing shift hours to 10 am to 10 pm to facilitate answering admission calls and offloading this from rounding physicians.
Results: Overall, the number of pages was reduced by 57% (across all shifts) from May 2015 – Oct 2016 (Figure 2). The greatest reduction occurred on the Swing shift with a 75% overall drop in pages. Overall Care Team satisfaction improved as well with survey scores going from 58% (May 2016) to 100% (Oct 2016).
Conclusions: The formalized communication procedure and communication initiatives successfully reduced page volumes for non-emergent communications, and increased the satisfaction score for the Care Team.
IMAGE 1: Figure 1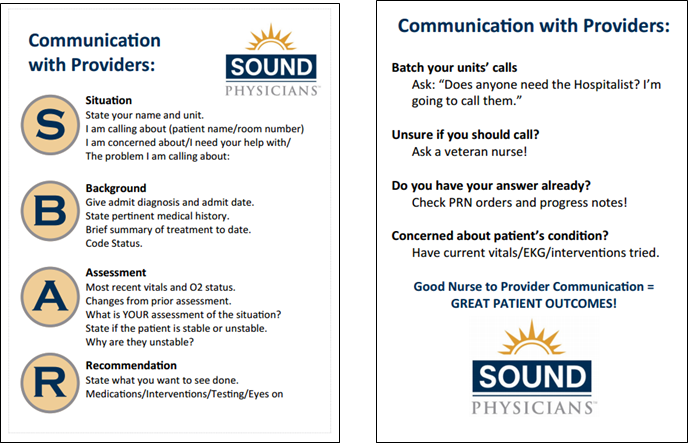 IMAGE 2: Figure 2